Taaffes Castle are the only venue in Carlingford to provide both live bands
and live DJ and guarantee reserved areas.
Reserve an area for your Hen party today!
Packages available for groups of 10+
Plan Your Hen Party in Carlingfords top venue – Taaffes Castle! We are located in the heart of one of Irelands most popular Hen Party destinations!
OH NO!!!! The grooms only gone and gotten himself kidnapped and it's up to bride & her hens to save him! CSI is fast becoming one of the more popular activities for Hen Parties in Carlingford.
Take part in a fun filled CSI Save the groom activity by completing tasks as part of the investigative team and solve the case and rescue the groom!
Calling all Chief Bridesmaids and Matron of Honour's!
Have you a list as long as the bride's train to get through!
Well let us look after one of those for you …. THE HEN PARTY!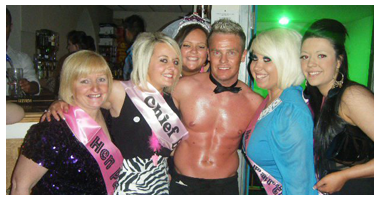 Butlers in the Buff Carlingford
Let our Topless Hunks tend to your every need as your personal Cocktail Waiter. This is perfect for your hen party!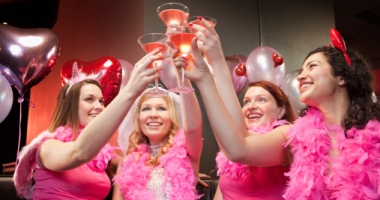 Pre Drinks Party Carlingford
Get your night off to the best possible start with a 'Pre Drinks Party'! We will provide entertainment including Music, Games and a personal Bartender to set you up for the evening ahead!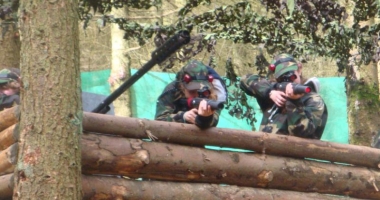 Laser Combat Carlingford
Enter the depths of Carlingfords Laser Combat Forest, your team will need to work together to defeat the enemy and defend 'til the end! Choose from a wide range of replica AK47's, M24's, M16's and Uzi Sub Machine Guns.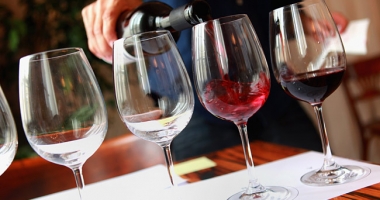 Wine Tasting Carlingford
Whether you are a novice or a connoisseur, everyone will enjoy the experience of tasting wines from different regions. By the end of your experience you'll become experts and will be able to show off your new found skills!
Hair and Makeup Carlingford
Want to feel special and pampered? Have your hair and make-up done with our in house Hair and make-up specialists! Our Make-Up artists will show you & your hens the perfect Make-Up look for your big day! (Minimum 4 persons)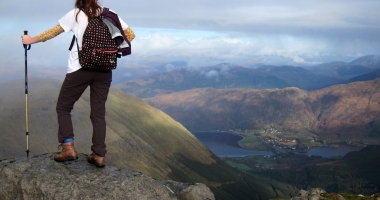 Hill Walking Carlingford
We are perfectly located at the foothills of the Cooley mountains – a perfect startpoint for your hill walking adventure. We are also a short drive from the beautiful Mournes.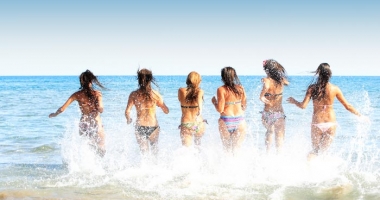 Swimming Carlingford
A wonderful activity and Carlingford is a very popular spot for a swim! Contact us for more information.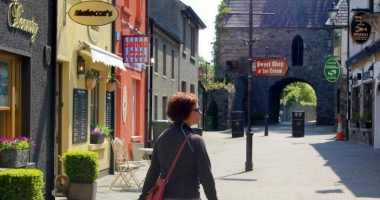 Walking Tour Carlingford
We offer Guided walking tours of the historic village of Carlingford in the beautiful Cooley Peninsula.
Meander the narrow streets of Medieval Carlingford while our expert guide recounts it's long and colourful history from Viking to modern times. The guided tour is an easy walk to numerous Normans ruins including King John's Castle (1210), the 15th century Mint and the Dominican Friary (1305).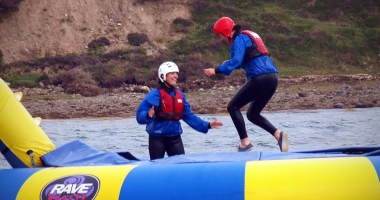 Water Trampoline Carlingford
The trampolines are hugely successful and became one of the most requested activities in Carlingford.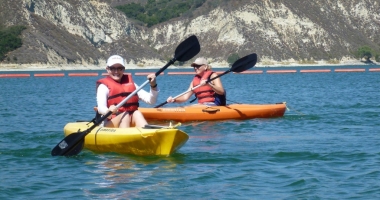 Kayaking Carlingford
Take in the scenery while on Carlingford Lough, where you can relax and breathe in the fresh air or you can team up and play fun games. The seals are known to make an appearance from time to time!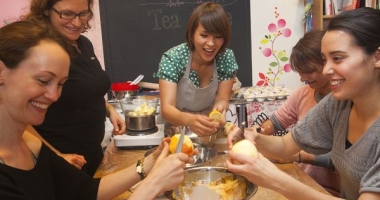 Cookery Class Carlingford
Want to expand your cooking knowledge to impress the future in-laws and have fun at the same time? You'll get a laugh, a drink and some fantastic food while you take your hen party cooking skills to a new level!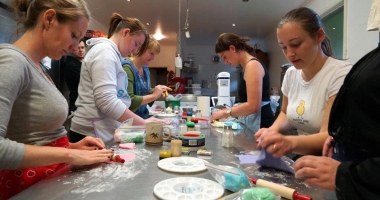 Cupcake Class Carlingford
Cupcake Classes are a great way to relax and to spend the afternoon learning new decorating techniques! And it gives you and your hen's some quality time together while enjoying the smell of freshly made cupcakes.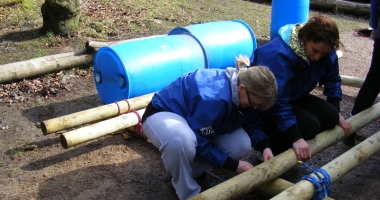 Raft Building Carlingford
Do you have what it takes to escape the island?
Put you knowledge together and work as part of a team in order to design and build your very own raft using barrels, wood and ropes!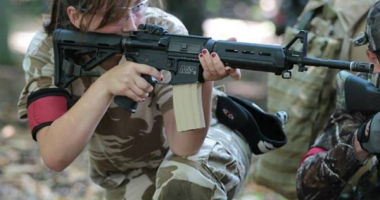 Airsoft Carlingford
Airsoft is similar to Paintball however it doesn't hurt as much! Take in the scenery of Carlingford as you battle it out in the field!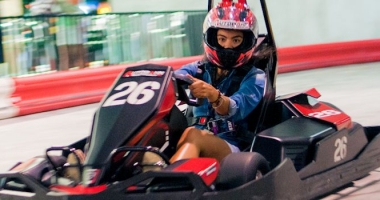 Go Karting Carlingford
Do you feel the need for speed or like to feel the wind in your hair? Which ever you prefer Go Karting is a very popular activity especially with groups! You will be competing with each other in order to win bragging rights! You will start off with a practice lap, then you will be going straight into the real competition! Beat all the others in the different heats in order to be crowned the champion!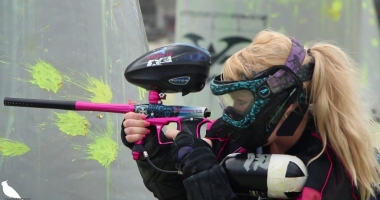 Paint Balling Carlingford
Take in the beautiful views of Carlingford as you run, shoot and hide! Defend your base from oncoming attacks and plan strategies! Unite as one and hunt down the Hen and cover her with paint! This would be a truly memorable experience for all.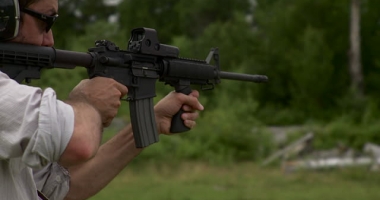 Rifle Shooting Carlingford
Have you the focus, a steady hand, and the hawk eyes needed? The all season Rifle range involves a target shoot, clay shoot and bell shooting challenge. We have targets to suit all experiences and ages of shooters. Full tuition is provided for this exhilarating sport. Look through your sight, concentrate, take aim and fire. You will be thrilled when you hit your first clay and sound your first bell!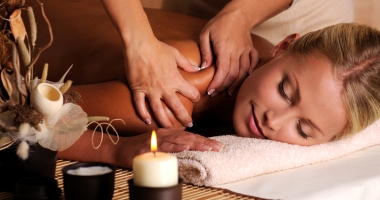 Massage Therapy Carlingford
After a long and adventurous filled day exploring what Carlingford has to offer, relax and unwind with a muscle melting massage! It will help set you up for your next day of planned activities!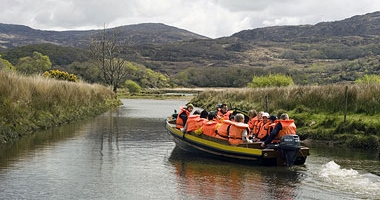 Off-Shore Boat Tours Carlingford
Fancy something more relaxing and scenic? Explore the Carlingford coast by boat and take in the breathtaking views. Make sure you take lots of photos because this is something that you will not want to forget!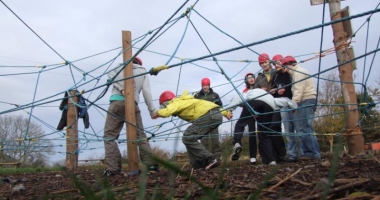 Obstacle Course Carlingford
Challenge yourself with many different challenges and try and beat each others high score! While doing this, you will get wet and dirty, but that's all part of the fun!
Release the inner farmer in you and have fun down in a Carlingford farm! Dress as a farmer for the day and help milk the cows. Perfect for City people who want to feel like a country person for the day!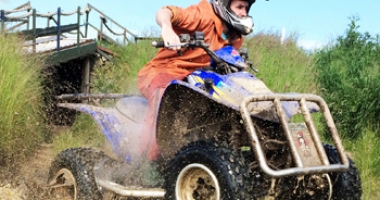 Quad Biking Carlingford
After a long and adventurous filled day exploring what Carlingford has to offer, relax and unwind with a muscle melting massage! It will help set you up for your next day of planned activities!
Spend the afternoon visiting some of the finest venues, specially chosen by our team giving you a tour of the peninsula. You will receive a cocktail & shot in each of 3 venues and the event will last approx. 3 hours. This activity costs €35 per person & we can add food to this package for a small charge.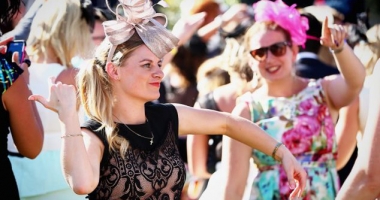 Fascinator Making Party Carlingford
Looking for something completely different to do for your hen?
Facinator/ Headpiece Workshop, a unique hen party activity! Create works of art and wear them at the wedding!
The fascinator is the new must have fashion accessory! What is it? It is an ornate hair accessory that features feathers, beads, flowers and other fancy trimmings. Kate (or should we say Princess Catherine) seems to favor fascinators with feathers. We like them all! Not only do fascinators add a whole lot of flair to any outfit, a nice fascinator does not have to set you back a pretty penny which is good because you will definitely want to own more than one!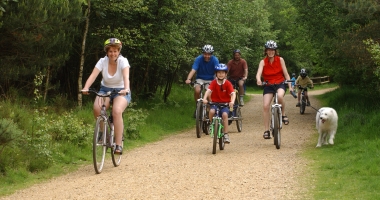 Cycling Paths Carlingford
Cycling is a great way to see Carlingford. Ask us about our cycling offers!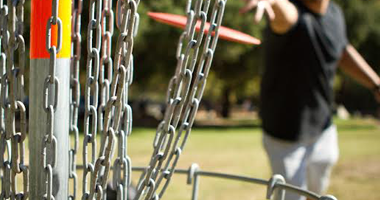 Frisbee Disc Golf Carlingford
Frisbee Disc Golf is the new sport that is taking the world by storm! This 9 hole course will test your skills much more than throwing to your friends. With obstacles such as trees, ponds and corners to aim, doge and spin your way around, everyone has a chance of being the winner!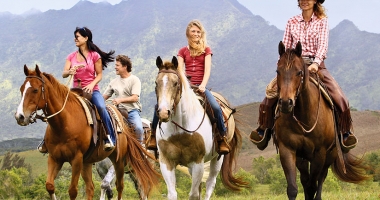 Horse Riding Carlingford
For those of you that enjoy riding, (or just doing it for the 1st time) we can arrange some Horse Riding lessons for you and your party.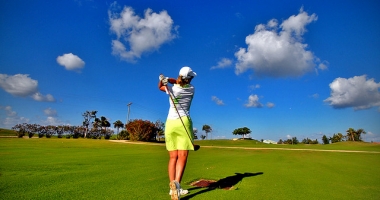 Ladies Golfing Carlingford
Carlingford has on its doorstep, one of the countries finest Golf Courses – Greenore Golf Club! Greenore Golf Club is an 18 hole Championship Links Course & welcomes groups & golfing societies.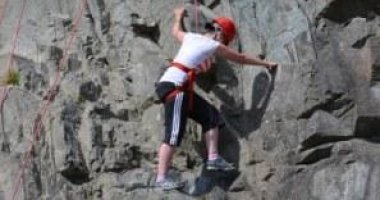 Rock Climbing Carlingford
We can offer you the opportunity to test your rockclimbing skills on a real rock face about 30ft high with with multiple climbs. A brilliant activity that will leave you with a great sense of achievement!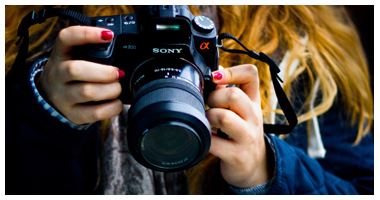 Shadow Photographer Day/Night Carlingford
Have your own personal photographer follow you threw out your dream hen party and have a reminder of that special night forever!
Also for an extra €12 a Head an indoor Banquet-Style BBQ
heated and candle lit is available for your Henparty!
A wide selection of food is available such as Burgers,Southern fried Chicken, Potato Wedges,
Baby boiled Potatoes cocktail sausages & a selection of side salads etc.. All you can eat! We also cater for Vegetarians!
For More Info Contact Us
Carlingford is packed with top quality restaurants. We strongly advise booking in advance & dealing with the restaurants directly.
The restaurants we would gladly recommend are:
Baytree Restaurant – www.belvederehouse.ie/bay-tree-restaurant.html
Ghan House – www.ghanhouse.com
Kingfisher – www.kingfisherbistro.com
The Oystercatcher – www.oystercatchercarlingford.com
Magees Bistro – www.mageesbistro.com
Here are sample menus from Carlingford's top 2 award-winning restaurants: